Full-Day Bora Bora Lagoon Cruise Including Snorkeling with Sharks and Stingrays
Australia and South Pacific » French Polynesia » Bora Bora » Bora Bora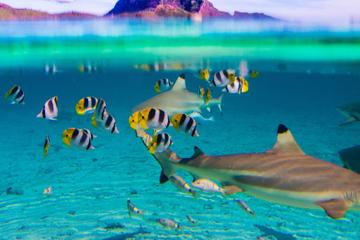 (5.0)
Duration: 7 hours
Departs: Bora Bora, French Polynesia
Price from USD 130.54
Book Now
Enjoy the ultimate day in paradise with a full-day cruise around the gorgeous lagoons of Bora Bora. Meet gentle stingrays and see black-tip reef sharks, snorkel among spectacular coral gardens and visit a small island for a delicious barbecue lunch with warm and welcoming hosts. You even get a taste of Polynesian culture during a beachside performance. Your expert guide shows you the best of the island, from colorful fish to stunning views, as you spend the day exploring the treasures to be found around beautiful Bora Bora.
After morning pickup at your Bora Bora hotel, board your powerboat to start an amazing day on the water with your knowledgeable guide. Soak up stunning views of the lush coast and turquoise sea as you cruise over to a shallow lagoon for a stingray experience.

Hop into the water with the provided snorkel and mask to get a close look at the tame stingrays, who might swim right up to you. Your guide explains how the gentle creatures have adapted to the human presence in these waters and shows you how to interact with the rays. Swim and snorkel among the graceful rays, and learn about their breeding and feeding habits as well as how they escape from predators.

After a memorable time with the stingrays, head to a prime snorkeling spot above a colorful coral garden. Snorkel around the corals while marveling at the multitude of gorgeous fish that flit about. If you prefer to stay dry, you can easily observe the marine life in the crystal-clear waters of the lagoon from the boat.

Worked up an appetite by now? Disembark at a beautiful motu (small island) where you enjoy a freshly prepared buffet lunch that includes grilled steak, chicken, fish, salads, fruit and beverages. Afterward, take a short hike with your guide to the island's summit where you get incredible panoramic views. Then have time to take a dip in the ocean or walk along the shoreline.

When you hear the sound of a conch shell being blown, it's time for some island entertainment. Learn about local culture as you watch a coconut husking demonstration, hear live music and enjoy a short performance.

At the end of an amazing 7-hour cruise, your guide returns you to your hotel.
« All Activities